by Jennifer Odom
Carl intrigued me from the start. With his easy laugh and jolly demeanor, here he was, 60 years old, in a sign language class, at the Center For Independent Living (CIL). Why? Yes, he had a wheelchair and difficulty speaking, but certainly wasn't deaf. So, why bother with the sign language?
One day I noticed Carl, some distance away, lifting his wheelchair into the back seat of his van.  A young lady stepped up and offered to help. He gave her a smile and seemed to dismiss her. With the chair in the van, he edged himself around and climbed into the front seat. The sliding door closed automatically and he drove away. An independent sort, he seemed to take his challenges in stride…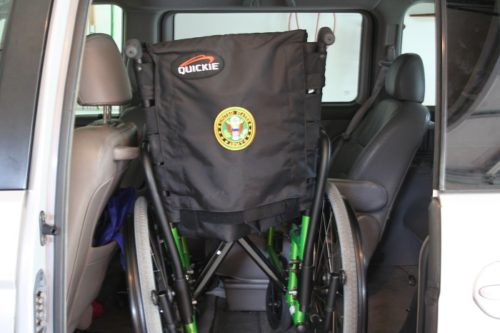 Impressed and curious, I wanted to learn more about this inspiring character.
Carl graciously agreed to an interview. First off, he explained that he was always interested in sign language. "I'd see it on TV. It's so expressive. I fell in love with it and have taken (classes) on and off (at CIL) for years.
When Carl was a child, his father was in the U. S. Air Force and traveled. Carl, born in England, moved with the family to the states at age 1 1/2. He has lived in California, Alaska, Massachusetts, and Florida.
In his teens, Carl was a bit of a rebel. When his father suggested he join the Air Force, Carl joined the Army  instead. He laughs, "I thought I'd get to go to Germany and see Oktoberfest.  So where'd I end up? Ft. Benning, Georgia. What an armpit!"
How long was he enlisted? He grins. "Two years, eleven months, and a couple of days. The Army was an eye-opening experience for a kid wet behind the ears. But it gave me a career I could build on . It exposed me to life in general."
In the meantime, Carl returned home. His father retired from the military and moved the family  to Ocala, Florida.
Carl, a civilian now, wisely used his GI Bill to earn an AS degree at CFCC, and eventually worked as a surveyor/subdivision designer for a private enterprise while practicing long distance running, (60-70 miles a week) and taking continuing classes at night.
Then in 1985 came the near-fatal accident, and consequently,  the wheelchair.
While driving his 65 Mustang, Carl was broadsided by a drunk. "Mom got the phone call at 2:00 in the morning, 'your son's dying.' They performed  emergency surgery at Munroe Memorial Hospital and  transferred him to Orlando.
"I spent two months comatose in a fetal position. I had physical therapy, but it wasn't much help at that point.
Fortunately he was in good physical shape. "Doctors said the running is what saved me."
He laughs. "You lose all your modesty. They say, 'Come on, you're taking a shower,' and you have to go."
He spent 1 year in the Orlando rehab. "That time was hard on my parents. They'd drive down from Ocala to Orlando every weekend, bring me home, then take me back to rehab." Two trips a week.
Carl dropped from 145 lbs to 120. "They said, you're too thin, so I ate and ate. The flap over my esophagus was paralyzed and food went down the wrong way. I ended up with pneumonia and a feeding tube."
Now he has what he calls a "second bellybutton."
He laughs about it. "The grandkids love it."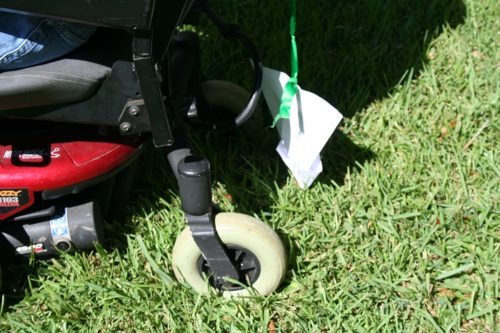 Some time before his wreck Carl had  worked for the City of Ocala.
"After my year in rehab," he says, "My mom was reading a newspaper. She saw where the city needed a draftsman."
He chuckles, "I guess they were hard up. My motor skills and reflex capacity were diminished. But the city was just at that time getting into computer drafting. I got in on the ground floor."
Single until 5 1/2 years ago, he married Tammie, a friend he'd known for last 18 years. She came with ready-made children and grandchildren. "His heart of gold," she says, is what attracted her. And, she adds, it was "his warmness, his willingness to do anything for anybody. The grandkids love Carl. They love him. They think the sun sets and rises on him."
"They like my scooter," he jokes. "Free rides."
"And he'll do anything for the grandkids," Tammie says. "When Madison (a grand-daughter) was in gymnastics, or school plays, there was Papa.  He's a very frugal person. But not with the grandkids."
After her recent knee surgery she was unable to pick up the grandkids at school. Carl pitched right in.
Carl retired after 25 years with the City of Ocala as  a computer draftsman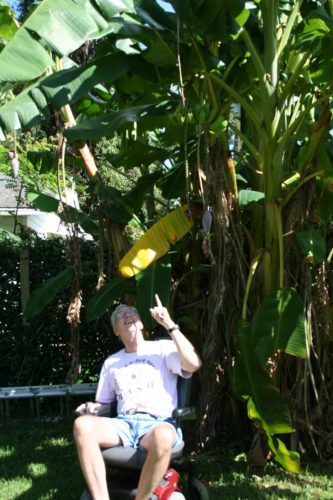 where he took plans from the engineers and drew up sewer plans, road-works, water plans, and landscaping. He worked extensively on Easy Street near the college, as well as 17th Avenue to the Interstate and out to 60th.
His wheelchair may slow things down, but it doesn't stop Carl from enjoying his hobbies. His yard contains roses and fruit:  bananas, raspberries, figs, pecans, and  blueberries.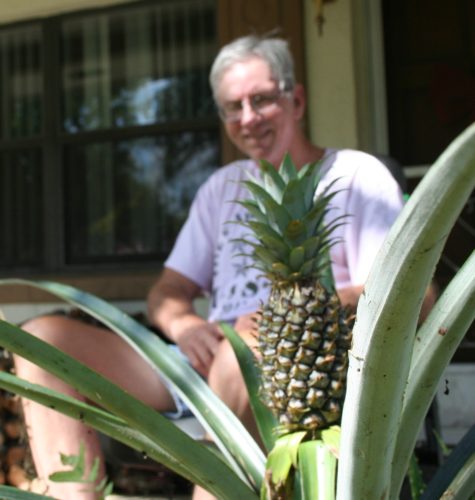 He even jokes about the experimental pee fertilizer he has applied to his roses, and claims that it has really helped the blooms.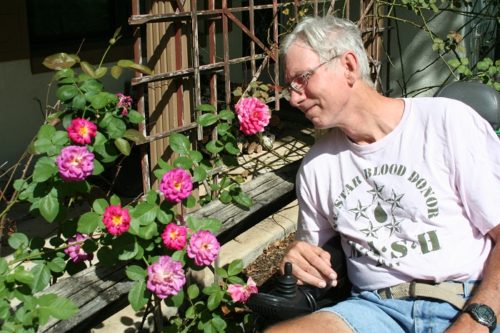 But he warns, "It almost killed the raspberries."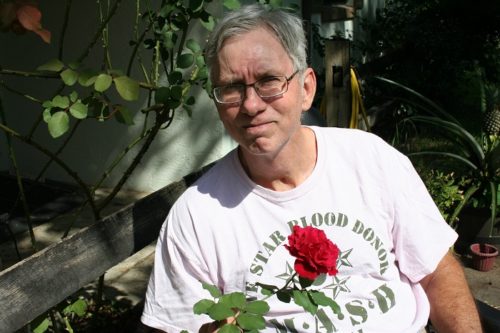 Besides his continued physical therapy to improve his hamstrings that were damaged during his coma, he works out twice a week at Too Your Health Spa. He works his upper body, lifts weights, works on his quads, does leg presses, and stretches his hamstrings. He is making progress, he says with another wide grin, and "not going backwards."
Carl's determination, his independence, and his willingness to keep on learning and being involved in life, seems to be the secret to this happy demeanor. His self-effacing humor goes a long way too, and wins him many friends.
Thank you, Carl. You go. You're an inspiration to us all.