by Jennifer Odom
It all started with her friend Vince on that fishing boat at Crystal River.
Lenore Black loved fishing, horses, and scuba diving. But being a single woman, she always had to work, work, work. "I couldn't go here, I couldn't go there," she said.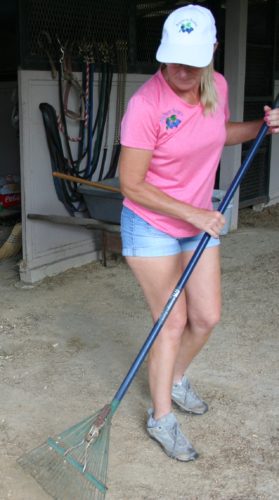 But that one day, the day that changed her life, she wrangled a little time off from her horse training/spa responsibilities to hang out with Vince.
Vince tossed his hook into the water…and out of nowhere said, "You ought to grow blueberries."
That thought had never crossed her mind. In fact, she says, "I knew nothing about blueberries until I started this blueberry business. I never even tasted a blueberry until about 6 years ago," when it all started to come together.
Now, she says, "I wish I'd started (the business) years before, just to get this ball rolling more."
After a 35 year career in the thoroughbred industry, she noticed the business declining and the economy sinking. "I had turned 50 and physically it's a lot of work." There are the hay bales, the cleaning of the stalls. "It's a 7-day a week thing unless you have help.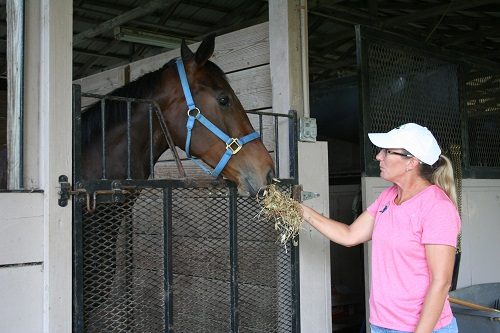 I've had injuries, broken bones over the years due to horses. My joints hurt. I can't do it anymore."
Black knew she needed to make changes, ones she could continue in ten years.
"I knew people would not always be able to afford luxuries but they would always have to eat." So she considered Vince's words, wondering if blueberries would be a good thing to retire to. At least it would maintain her property's ag designation and keep her taxes down.
Vince offered her some contact information, and she connected with a blueberry grower to get advice.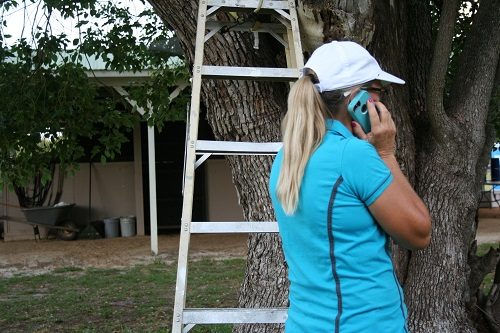 "The nice thing about blueberries, is you can call any blueberry farmer and ask them a question and they will help you in any way. Very seldom do you find this in the horse business. The blueberry farmers work together in their area."
Her first contact recommended going commercial, tearing down fences, barns, everything on the property, getting rid of her horses, and planting all 17 acres in berries.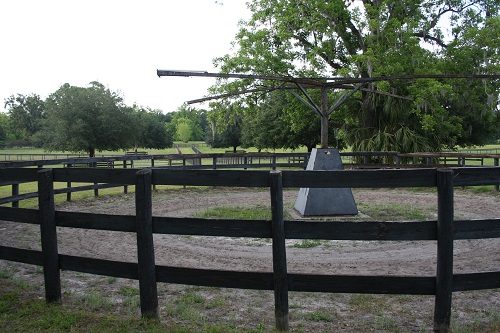 After 20 years, "It was scary. I wasn't sure I wanted to get rid of the horses. I built this farm, the barns, the fencing. At that time I didn't know if I could, in my heart, take it all down and be completely done with horses."
Still, she contacted another grower from Island Grove.
"He advised me not to start too big, to start small and see if I could even grow blueberries, then gave me all the irrigation and plan contacts."
"I was so relieved," she said, at this less drastic advice. "I thought I could handle it then. I think this is better, it's just the right size I can take care of it myself. Meeting the right people was the key thing."
Her farm, Blueberry Downs, is small and immaculate, and a thing of beauty. How did she manage?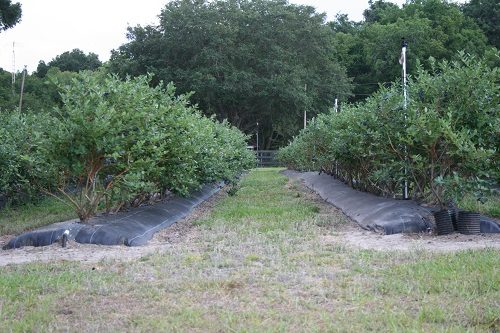 "I have been blessed with a couple of friends and my boyfriend, who comes by when he can, and at times friends who live on the property, temporarily. They pitch in and help.
"In the beginning I hired professional people to put pipes in and the plastic down and create the raised beds to incorporate the mulch into the soil."
The tricky part came with putting the holes in the plastic and planting. "I had to do that myself.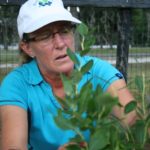 The plants came in large 3×3 crates, with the plants lying on their sides. "I had to take them out of the boxes just to put water on them. We laid them out in the field for placement," and the race was on, since the roots can't be allowed to dry out.
"Three really close friends helped. We started on a Wednesday. On Saturday and Sunday I had ten to 12 people all day long who helped me put the plants in the ground."
Vince, who's an office kind of guy, stopped by to help on Saturday. "Man, Lenore, it's hot out here. This is hard work."
"Remember, it was your idea," I reminded him.
"Well, my idea was you would hire workers to come and do all this, not that we would come and plant the plants."
I had to grin.
We finished on noon on Monday. Another friend cooked hot dogs and hamburgers on the grill for everyone.
"If it wasn't for all my friends I wouldn't have gotten the plants in the ground. They would have died first."
That first year, the day before I opened, my boyfriend David and I took a stroll and another long look across Blueberry Downs.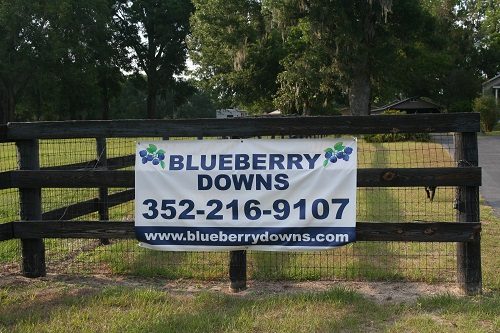 "What if nobody comes?" I said.
"That would stink."
"Hey, you're supposed to pat me on the back and say, 'no worries, it's going to be ok.'"
But the next day came, and so did the people, just like they were supposed to.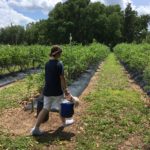 Now, four years later, aside from hungry squirrels and birds, and a few missing signs, things are going well.
"So many people appreciate me being here. I'm really amazed at the reception I've gotten. I've met so many nice people from this area I wouldn't have otherwise met. And they keep coming back. Each year I catch up, and find out how they're doing. I see the kids grow. They're part of my family."
Her personal life has changed as well. She's cut back on her horse business. "It's allowing me to do more things, and spend more time with friends and family that I had neglected before. I have ten times as many friends now."
I think God is looking out for me and helping me find my way again.
"If I had not gone fishing with Vince that day, the conversation would have never come up and I would have never started what I started.
"I have to think I am so fortunate that I have been able to do this and had the means to be able to switch my career."
Her advice to others? "There are different things we can try. I would say don't be afraid to try something, to think outside the box and don't be afraid to reinvent yourself, no matter what age you are.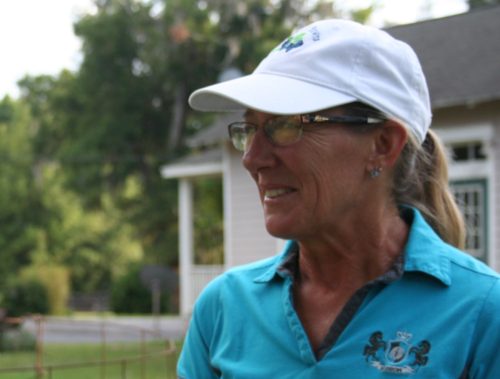 "If it doesn't work, don't take it as a failure, but take it as a learning experience.
"You just don't know unless you try."