by Jennifer Odom
Bubbles overflowed the toilet bowl. Four year old Christen Mejias and her older brother poured and mixed whatever liquid soaps and shampoos they could find.
Making beauty "potions" was a favorite pastime until her mom caught them and ran them out. "Stop flushing things down the toilet!"
The scientific experiences must have paid off, because Christen, at age 34, is now a bona-fide soap-maker.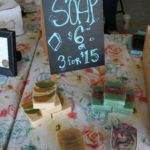 Encouraged in that direction by her mom and dad, Robin and David Maddock, she said, "I loved doing … science experiments on my own when I was little." When she was old enough she attended Brio Academy of Cosmetology in Connecticut, learning to do facials in a spa, work with dermatologists, handle chemicals, and prepare people for surgeries. She graduated as a Certified Esthetician and in 2008 moved to Ocala, Florida, which she loves, and where she hopes to stay.
But in the recession, unlike her IT-specialist husband, she struggled to find a job. Instead, she dedicated herself to being a stay at home mom.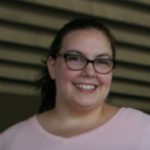 With her hands frequently immersed in cleaning products she was dismayed at the ingredients on their labels. "These weren't environmentally friendly products. Surprisingly, I found that carcinogens (substances that are known to cause cancer) were in our lotions, soaps, makeup, baby shampoo, household cleaning products, and more!"
She began experimenting with safe kitchen-cleaner formulas and working with essential oils. Everything had to be environmentally friendly as it went down the drain.
She grew "passionate" about natural ingredients and skincare. "I set out on a mission to find a healthier option…to learn more."
That's when she stumbled across bar-soap making. She tested different formulas and ingredients and came across the cold-process of making soap where not a lot of heat is used. "The soap naturally makes heat on its own as you combine the oils and sodium hydroxide."
"Science always fascinated me growing up." She grins. "And this is all science. It's chemistry."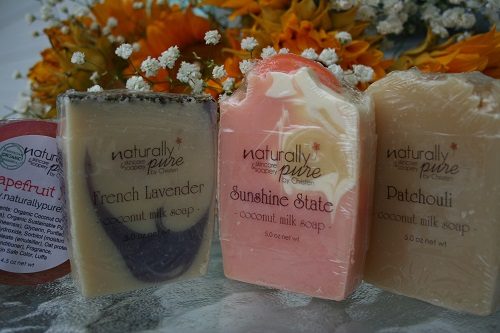 "Making soap is not that simple. It's taken me years of research and experimenting, testing, and studying to come up with this formula, and I ended up with a recipe and results, the kind of bar I liked."
"My husband's probably tried every girly-smelling soap. He loves that I love what I do, and I'm blessed he's supportive."
At her home-studio, each bar is made with 100% pure essential oils and/or high quality, phthalate-free fragrance oils."(It) isn't just dumped into the mold. Each loaf is designed and sketched before it's handcrafted into small batches."
Eventually she got the courage to start selling online. With her husband's technical help she began selling through Etsy. In 2011 someone suggested she sell her soaps at the Ocala Farmer's Market. So she brought her product, set up shop, and has been there almost every Saturday since.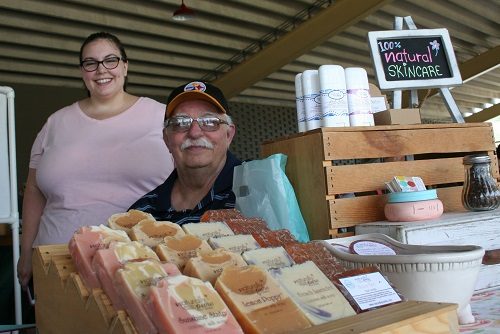 Today she franchises out with several private labels--her soaps with their name wrapped around it.  She has a private label, a wholesale account, and also sells at Earth Fare Supermarket.
"One day when the kids (who absolutely do not play in the toilet) are bigger, I'm hoping to have a storefront."
In the meantime, she continues refining her Naturally Pure products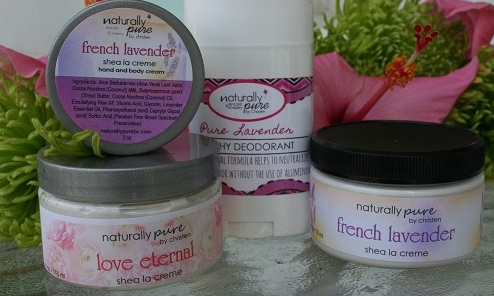 of lip butters, lotions, essential oils, soaps, and deodorant.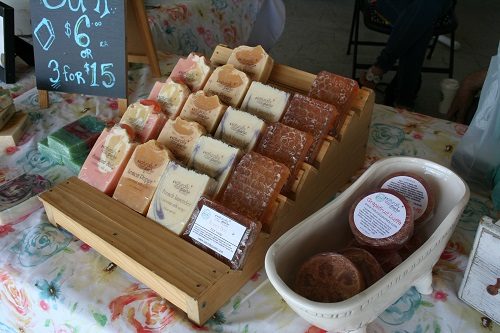 As her mother once said, "I should have known all those years ago, when you were a little girl…that you would grow up to make something beautiful."
Find Christen's  products online at www.naturallypurebc.com